Miranda Kaye has been appointed as the new director at the Survey Lab, the University of Chicago's center of expertise for social and behavioral data collection. Kaye brings a blend of expertise in social, behavioral, and health sciences. A graduate of Cornell University, with a BA in human development and family studies, Kaye completed an MS at Arizona State University, and a Ph.D. in kinesiology, with a focus on sport and exercise psychology, from the Pennsylvania State University. Kaye taught research methods and statistics at Ithaca College, worked as a research and evaluation scientist and co-PI on large, federal studies at Penn State, and served as the director of the Survey Research Center at Penn State prior to being tapped to head UChicago's Survey Lab.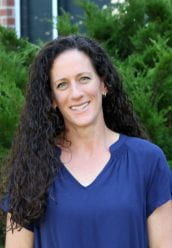 "I am thrilled to continue my career at UChicago and in the Survey Lab as the next director," Kaye said. "For the past 14 years, I have had the privilege of working with caring, experienced, and hard-working colleagues, and with thoughtful, creative, and innovative researchers. I look forward to building these relationships within UChicago, and to support UChicago research." Kaye's own research focuses on scale measurement, the dissemination and implementation of health and well-being interventions, positive parent-child interactions, and youth development.
Housed within the Public Health Science Department in the Biological Sciences Division, the Survey Lab is UChicago's home for social and behavioral scientific data collection. The Survey Lab collaborates with academic researchers, faculty, nonprofit organizations, and university administrators, among others, to assist with research design, questionnaire development or review, and/or sampling and operational aspects of survey or related data collection for projects on any topic. Survey Lab staff are methodologists focused on the logistical and practical elements of data collection, working to ensure the approach matches the investigator's research goals (and budget). The Survey Lab can assist with measure development, participant recruitment, sample management (such as reminders and incentives), and deliver dis-identified data for analysis.
The Survey Lab specializes in both qualitative and quantitative methods. Kaye said that while much of the work in the past year has involved mixed-methods including standardized web, phone, and field-based survey data collection, the Survey Lab also has experience collecting observational data in schools, homes, and businesses; conducting in-person or online focus groups; doing one-on-one conversational interviews; carrying out standardized coding for content analysis projects; and obtaining bio-measures in addition to asking survey questions (cheek swabs, blood spots, measures of height and weight, conducting standardized cognitive screeners, taking photos of teeth, taking short videos to assess gait, among others).   
"As research methodologists, our focus is on the small details that define quality data collection. Our goal is to help researchers ask better questions – from refining big research questions to making informed decisions about specific aspects of design and implementation. Survey Lab support can be tailored to virtually any degree of involvement at different stages of the research process, from grant planning through data collection," Kaye said.
You can reach the Survey Lab to schedule a consultation at surveylab@uchicago.edu or mpkaye@uchicago.edu.